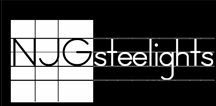 Gilbert & McCarty Ltd, Hammer Hill Farm, Hammer Hill, Stanbrook, Thaxted, Dunmow, Essex CM6 2NH
T: 01371 831032 M: 07836 769944 gilbert_mccarty@yahoo.co.uk
Whiteleys Then and Now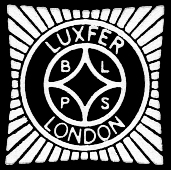 Steelights is a fire rated glazing system for internal and external use, produced to current aesthetic standards, but developed as a contemporary equivalent to the first ever Fire Resistant Glazing from the19th Century.
Tested to the 30 minute British Standard 476 part 22 - 1987 (+25%). The basic structure is a stainless steel skeleton with a precision-engineered and patented mechanical jointing that allows extremely accurate glazing of a defined size to achieve the required result of fire resistant glass integrity.
Varied 6mm standard production glass types can be used to produce totally clear or diffused glazing options or variable combinations of glass and module size can be used according to the proportions of any required opening. Also with size variations within a single unit, extra design potential is possible together with the juxtaposition of different glass types and textures.
Produced as an independent parallel product to Copperlight Glazing by Gilbert & McCarty (also fire tested to the British Standards above) that started development some 20 years ago, the innovative stainless steel system also allows, with it's extremely strong mechanical properties, to contain a highly decorative and artistic use of annealed and machined glass within defined dimensions as 'Prismatic Steelights'. This innovation allows a more creative and attractive input, both in the use of the steelwork and the various types of glass, including use of bevelled and prismatic glasses, to accommodate contemporary design and architectural standards.
Whilst more expensive than standard fire glazing, the basic product, with its variable range, is competitively priced when considering its extra flexibility and aesthetic possibilities for the selective architectural setting and the discerning client.
Currently the Copperlights are in extensive production for an appropriate period refurbishment of the famous Café Royal in Regent Street, Piccadilly in London's West End.
Historically developed and marketed worldwide as Luxfer electro-glazing, the original product, as found in the Café Royal, was initially created in the USA. It started in 1881 when a British-born inventor, living in Boston, received a USA patent for a new cast glass tile design, which featured a pattern of light refracting prismatic ridges to direct sunlight into dark interiors.
It then took until 1896 for an American inventor from Chicago to introduce his electro-glazing process. Using thin copper strips that bonded the tiles together into strong, rigid window panels, that were both waterproof and lightweight, the Luxfer Prism Company was established in Chicago in 1897.
In 1899 the well-known architect Louis Sullivan used Luxfer tiles extensively for a new department store in Chicago, receiving nationwide publicity, then after Luxfer windows survived a devastating fire in another Chicago building the company added fireproof glazing to its product line.
Demand for Fire Resisting Glazing for windows was unknown prior to 1899, but its potential value as a means of localising fires in buildings, where people congregate in large numbers, was speedily recognised.
The early 1900s saw millions of Luxfer glass installations in North America and Europe, and the company expanded into the production of a large selection of pavement lights, floor lights; dome lights and skylights. This success continued to the 1920s, but by the 1930s demand for prism tiles had declined as the use of electric lighting spread, load-bearing, hollow glass blocks provided a less expensive alternative and other forms of fire resistant glazing were available.
For restoration and retro installations copy versions appeared, but were generally of inferior finish and function until the current 'Copperlights' were developed and more recently joined by 'Steelights' their contemporary partner.